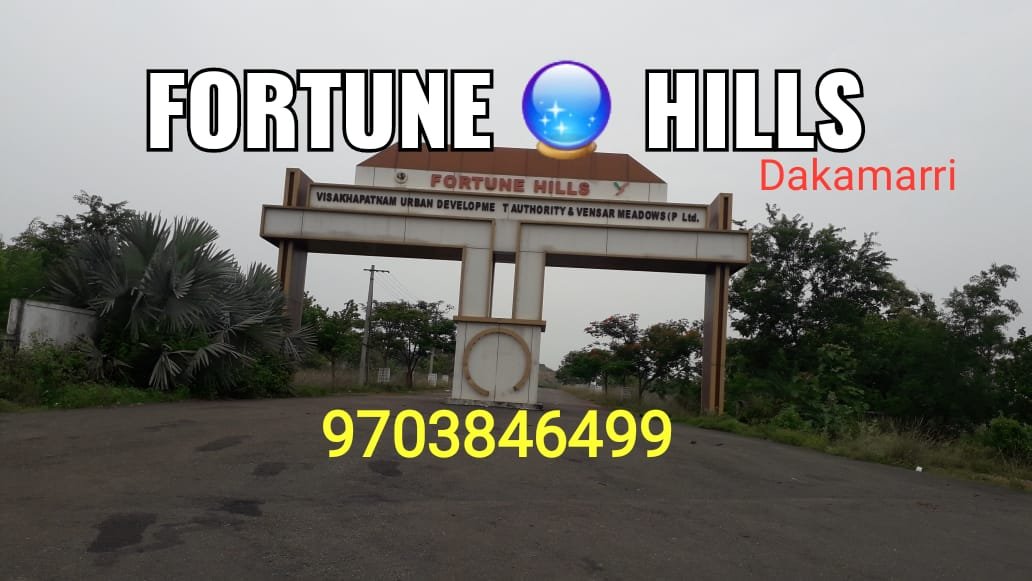 Fortune Hills Residential Plots
Fortune Hills Residential Plots:
One of the best Vuda approved gated community layouts in Vizag is Fortune Hills Residential Plots venture Dakamarri, Visakhapatnam called Vensar Medows.
Now we have 16 plots of each  90 square yards ( 18 feet east x 45 feet depth = 90 ).
Anyone can buy two side-by-side 90 sqrds plots. (36  feet x 45 feet =180 sqrds).
Therefore Loan Available for each plot, Govt rate is 8500/- per square yard.
Buy through cash mode than 300/- will discount for each square yard.
In other words, the Dakamarri location is a good location for even residential purposes also.
To buy an approved Vuda  Plot in Fortune hills layout kindly call us.
In conclusion, Vuda /Vmrda will take over the layout developments as per Vuda norms.
After that 60 days will be given after booking the plot.
Fortune hills Location Highlights:
A  project of 98 acres LP No. 57/2013 / Developed Layout with L.P. Number 99 & 100/2016 in 20 acres (Developer share).
Adjacent to 6 lane National highway-43. ( Visakhapatnam to Raipur via Vizianagaram).
Water lines connected with total layout Through Over Head Tank.
Open spaces for children's parks. School and commercial spaces.
Grand Entrance Arch, Avenue Plantation, 3 acres central park, and Hanuman temple.
60 feet 40 feet Blacktop roads
Open drainage and Open Electricity.
Pollution-free Environment Suitable for Immediate construction.
Constructions will be done immediately according to the customer's will.
(2 BHK, Villas, Duplex Houses)
Surrounded by Reputed Educational institutions like:
Raghu engineering college
Vizag Institute of Engineering & Technology
Lendi Engineering college
Maharaja Engineering college
Marine Engineering college
Praveenya Engineering college
Near Oakridge International School
Ameya international School
Above all the highlights of the Project.
plot size – 90 square yard
18 feet east  x 45 feet depth
Facing –  East
24 x 7 Transport facility
Abundant water services
Similarly very known approved  Vuda venture, and is of 100 acres with 60 feet and 40 feet wide roads.
Hence all developments will be done by Vuda. so Buy a plot in Fortune hills layout for investment purposes.
This layout will be soon positioned with residential houses.
For instance, bank loans are Available to the total layout.